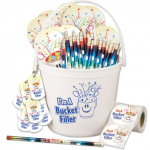 MGES Character Traits by Month
2014- 2015
September–  Respect One Another and Bullying Prevention

Respect means using good manners and being considerate of the feelings of others.  Sometimes we may make a mistake and that's OK.  It's important that we learn from our mistakes but also learn to apologize when it's necessary.
October– Responsibility Following Directions (K-2) Social Problem Solving (3-5)

Being responsible means being accountable for your own words and actions.  Students show responsibility when they follow adult and teacher directions right away.
November–  Digital Citizenship as we continue to focus on Social Problem Solving

Being a good citizen means doing your part to make your home, school, and community better places to be.
December– Honesty
Honesty means speaking the truth at all times.  Students who are honest return things that they find and do not steal from others.
January– Caring

Being caring, means showing understanding for the needs of others.  People show they are caring through smiles, giving compliments, and helping out a friend in need.
February– Courage – Learning the difference between tattling and telling (K-2) Stress Management (3-5)

Having courage means doing the right thing even when it is difficult.  Courageous people are able to face their fears and admit to their mistakes and learn from them.
 Celebrate Kindness Week
February 9-15, 2015
March– Anger Management (K-2) and Effective Test Taking (3-5)

Our primary students will work on the proper ways to handle/cope with anger. Students will learn that they are responsible for their own actions and behavior. Our intermediate students will be prepared for effective test taking skills and strategies.
April– Respect  (K-2) and Anger Management (3-5)

When you are respectful you are considerate and think about how others feel.  Students who are respectful raise a quiet hand and use good manners.  Respectful students also think about how their actions affect others.
May– Safety

Students will be instructed on how to be safe in our home, school, and community.
Any questions or concerns please feel free to contact our
School Counselor,  Ms. Savage at 727-774-5818